Premium Outdoor Solution with Super-High Speed AC1750 for Elite Performance
The OAP1750 features an IP67 rated weatherproof and rust-resistant metal casted housing and provides a premium wireless solution designed for SMBs which demand elite network performance. The product features the latest 3 x 3 IEEE 802.11ac technology for concurrent dual-band wireless speeds up to 1750Mbps. A wall or pole-mounted design and industrial-grade build quality combined with user-friendly operation and extensive feature set, make an ideal high-performance dual-band solution for demanding day-to-day enterprise operations.
For businesses that demand security, flexibility and speed – the Edimax Pro series has a wide range of potential applications from office environments to schools, campuses, hotels and hospitals. Multiple SSIDs can be configured for different departments or user groups and a built-in RADIUS server provides additional verification with a scalable AP array architecture for central management of multiple access points. High-density capacity for up to 100 simultaneous clients ideal for BYOD workplaces or other environments with a high volume of clients and wireless devices, and fast roaming allows for seamless transitions between multiple access points. Power over Ethernet support (PoE) and an intuitive web-based management interface provide deployment flexibility and extensive management options for company MIS departments and network administrators. An optional security cover also prevents physical theft or tampering, along with a rogue AP detection function to safeguard your network from unauthorized access.
When performance and security are critical for your business, you need products that are engineered for your industry. The Edimax Pro series is designed to help your business and provide the connectivity that you rely on every day, with safety and effectiveness guaranteed, and the OAP1750 offers the highest level of wireless performance on the market today.
KEY FEATURES
802.11AC Dual-Band High Speed: IEEE 802.11ac concurrent dual-band with 1750Mbps wireless speed.
Easy Installation: Wall-mount or pole-mounted design with easy installation kit.
Rugged Construction: IP67 weatherproof housing and die-cast aluminum, corrosion resistant enclosure, salt, fog, rust ASTM B117 weather shield to survive the most challenging environments.
Designed for High Density Usage: Supports up to a hundred users simultaneously, ideal for crowded environments and BYOD (Bring Your Own Device) workplaces.
Multiple SSIDs for Security Management: Supports up to 32 SSIDs (16 x 2.4GHz & 16 x 5GHz) ideal for multiple departments, user groups, customers or guests.
Fast Roaming: Roams smoothly between APs without lag or interruption, ensuring top performance for video and voice streaming applications.
Wide Coverage & High Sensitivity: Adjustable RF output power and high receiver sensitivity for wide coverage across large spaces.
Seamless Mobility: 1.5x greater coverage than typical APs for blanket coverage to ensure seamless connectivity for Wi-Fi devices across enterprise environments.
Power over Ethernet: Supports IEEE 802.3at PoE.
Built-In RADIUS Server: With management for up to 256 user accounts.
Business Outdoor Environments: Advanced choice for high-performance applications. Suitable for a wide range of commercial applications such as across university campus, stadiums, outdoor malls, hotels and along side rivers, highways, railways and others.
Central Management: Edimax Pro Network Management Suite (NMS), easy and Intuitive web-based central management suite, supports AP array architecture.
---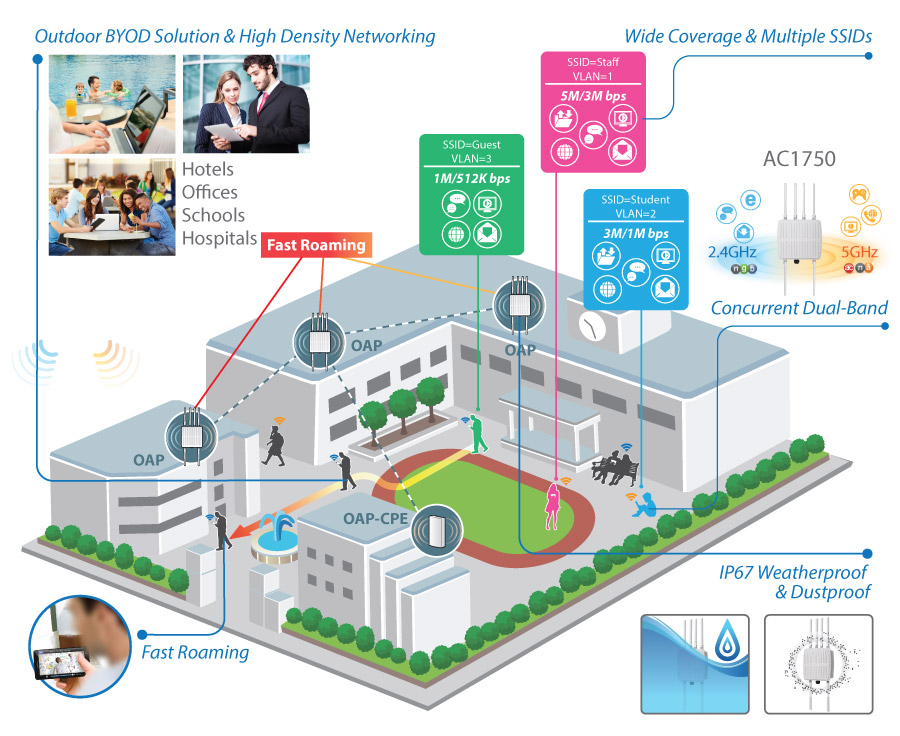 ​High Performance Design with High-Speed 1750Mbps Dual-Band 11ac
State-of-the-art IEEE 802.11ac wireless technology delivers the Giga-fast Wi-Fi speeds that today's fast-moving modern business environments demand. And simultaneous 2.4GHz & 5GHz dual-band coverage means maximum flexibility for mobile-centric business productivity applications. Speeds up to 450Mbps on the 2.4GHz band and 1300Mbps on the 5GHz band can handle even the most bandwidth intensive tasks, perfect for audio, video and voice applications and significantly faster than traditional 802.11n Wi-Fi. Additionally Edimax Pro series products feature other high-performance design features such as solid capacitors for significantly longer lifespans than traditional non-solid alternatives, generating less heat and delivering increased stability. Durable, robust and ready for business environments.​
​
Wide Coverage & Multiple SSIDs
With adjustable RF output power and high receiver sensitivity, Edimax Pro access points are equipped to provide wide coverage where it's needed the most. Suitable for large spaces across office floors, shop floors, hospital wards, or conference rooms, get the wireless coverage that staff and systems need to operate efficiently. Keep every corner of your business connected and differentiate user groups, departments or guests with up to 32 separate SSIDs with independent security. Wide, accessible Wi-Fi coverage with strong security to protect sensitive company information and supervise access to internal networks.
BYOD Solutions & High Density Networking
Bring Your Own Device (BYOD) is becoming an increasingly commonplace company trend in offices and enterprise environments worldwide. Employees are using their own smartphones, tablets and laptops with the latest cloud-connected productivity apps to get things done, and traditional 2.4GHz is crowded, so most of these devices need or support high-speed 5GHz Wi-Fi. And in offices, hotels, schools or other densely populated environments, access points need to cope with a high volume of users connecting to the network at any time, whether it's customers or employees. Edimax Pro solutions support the latest 802.11ac 2.4GHz & 5GHz dual-band Wi-Fi along with high-density capacity to support up to a hundred users simultaneously, ideal for BYOD workplaces and a large number of wireless devices.
Seamless Mobility
Typical wireless access points can effectively cover a 25m – 30m radius under normal usage. Now with the technological advances in Edimax Pro access points, we can extend effective coverage approximately 1.5x further, eliminating Wi-Fi dead zones completely and providing blanket coverage across enterprise environments. Wireless devices can stay seamlessly connected in environments where connectivity may be a critical component of efficiency and productivity, and benefit from mobility with high-speed connectivity across a range of wireless devices: smartphones, tablets and computers, throughout an entire organization.
Hotels, Offices, Schools and Hospitals Outdoor
Edimax Pro OAP1750 outdoor access points, with high-speed 11ac high-density networking for up to 100 simultaneous users, are ideal for
across university campus, stadiums, outdoor malls, hotels and along side rivers, highways, railways and
or anywhere with large-scale outdoor Wi-Fi network use, with safety and effectiveness guaranteed.
Rogue AP Detection & Wireless Isolation
Rogue access point detection can identify any unauthorized SSIDs which may have been installed in an otherwise secure network with malicious intent, and L2 wireless isolation provides wireless security.
Easy and Intuitive Central Network Management Suite (NMS)
Edimax Pro NMS (Network Management Suite) is a web-based wireless network management system. Company MIS administrators can plan and manage Edimax Pro access points' powerful functionality according to their office space using an easy, remote web-based interface which includes a dashboard, map view, traffic statistics and wireless client list for network-wide remote administration. The OAP1750 can be managed by Edimax Pro indoor access points or a standalone Edimax Pro APC500 Controller. RADIUS settings, WLAN group settings, access control, guest network settings and firmware upgrades can all be managed centrally from a single location to reduce network downtime, aid troubleshooting and optimize network performance. Graphical zone plans with Google Maps integration and setup wizards are also available for expanding and managing large networks with multiple access points, with custom floor plans, visual overviews and easy drag-and-drop icons for quick access to key performance and monitoring information.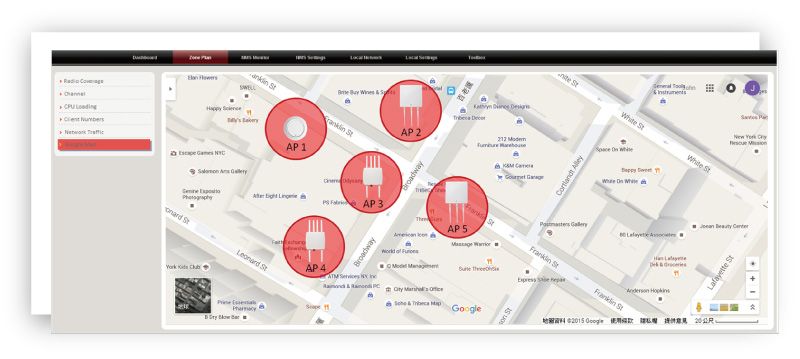 ​
AP Array
Edimax Pro Network Management Suite (NMS) supports AP array architecture, which enables the central management of a group of access points. NMS can be installed on one access point and support up to 8 Edimax Pro access points with no additional wireless controller required, reducing costs and facilitating efficient remote AP management. Access points can be deployed and configured according to requirements, creating a network powerful network architecture which can be easily managed and expanded in the future, with an easy to use interface and a full range of functionality for company MISs.
​
​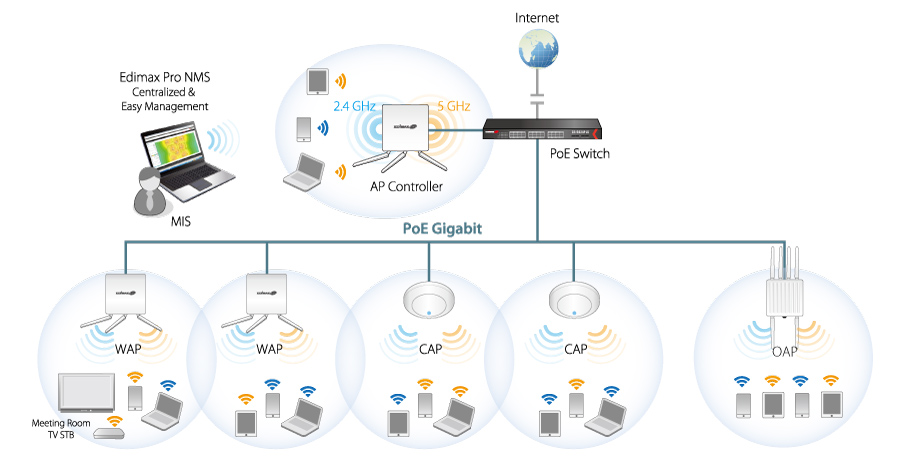 ​

Easy Installation Kit
OAP1750 is with wall-mount and pole-mount bracket kit for easy installaiton.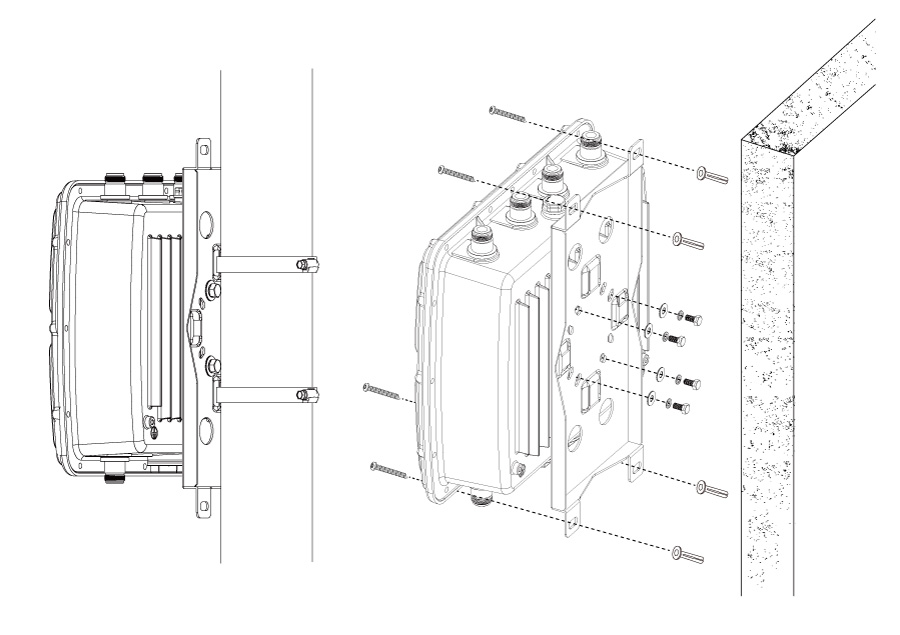 *Kinerja maksimal, kecepatan data yang aktual, dan jangkauan tergantung dari kondisi jaringan serta faktor lingkungan sekitar.
*Resolusi visual aktual dan kecepatan frame kamera jaringan tergantung dari kecepatan koneksi.
*Perubahan spesifikasi produk dan desain dilakukan tanpa adanya pemberitahuan.