Eight 10/100/1000Mbps Gigabit PoE+ ports
IEEE 802.3af/at PoE compliant for simplified deployment and installation.
Up to 30W per PoE port (total power budget: 130W) for powering PoE-enabled devices.
Auto-detection of powered devices (PD) and power consumption levels.
Hardware DIP switch for "Standard" and "Extend" mode selection; the "Extend" mode features 30-watt PoE transmit distance of 200m at speed of 10Mbps
Port-based VLAN and Loop Protection features
Supports 802.1p Quality of Service (QoS)
The Edimax GS-1008P V2 is an Eight PoE+ Port Gigabit switch designed for use in home, small or medium sized network environments. With eight DIP switches, PoE ports can be manually set with on/off control, extending PoE delivery distance up to 200 meters and port-based on/off control for VLAN and QoS is also supported. The switch easily connects and supplies power to PoE-enabled devices such as wireless access points, network cameras and IP phones as well as other Ethernet-enabled devices such as computers, printers or network attached storage (NAS). The compact size and fan-less design make the switch an ideal solution for expanding home and small business networks.


---
Power over Ethernet (PoE+) Auto Detection
Features eight IEEE 802.3at Power over Ethernet (PoE+) ports which supply up to 30 watts of electricity per port. It can convert standard 100‐240V AC power into low‐voltage 50 - 57V DC electricity to power IEEE 802.3at compliant network accessories via existing LAN cables. With PoE detection capability, the GS-1008P V2 is able to verify whether the connected device is IEEE 802.3at compliant. In the event that a PoE device is not detected, only network data will be transmitted through the LAN cable – meaning easy setup and management of network devices such as access points and network cameras.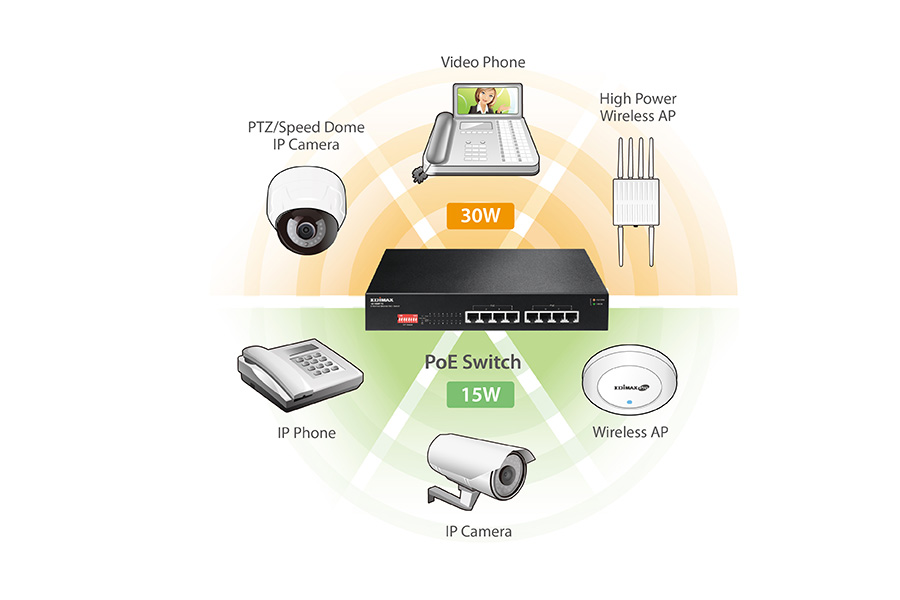 ​*IP Phone: 3 - 7W, IP Camera: 7 - 10W PZT Camera: 15 - 25+ W . Access Point: 8W for 802.11a/g radios; upwards of 20W for 802.11n radios
The guidelines are meant to provide general estimates for power consumption. Actual power requirements vary and should be confirmed for each model when determining your PoE budget requirements.
---
CCTV Mode
The unique CCTV-mode DIP switch function is ideal for surveillance networking environment. Switching all DIP switches to on enables CCTV mode which gives multi-function PoE + data extension, Port Isolation and QoS on the GS-1008P V2. When using video surveillance systems for homes, business or institutions, the CCTV mode provides better speeds for multicast viewing and easier installation. Setting all DIP switches back to off quickly changes the GS-1008P V2 back to normal for general-use data transmission.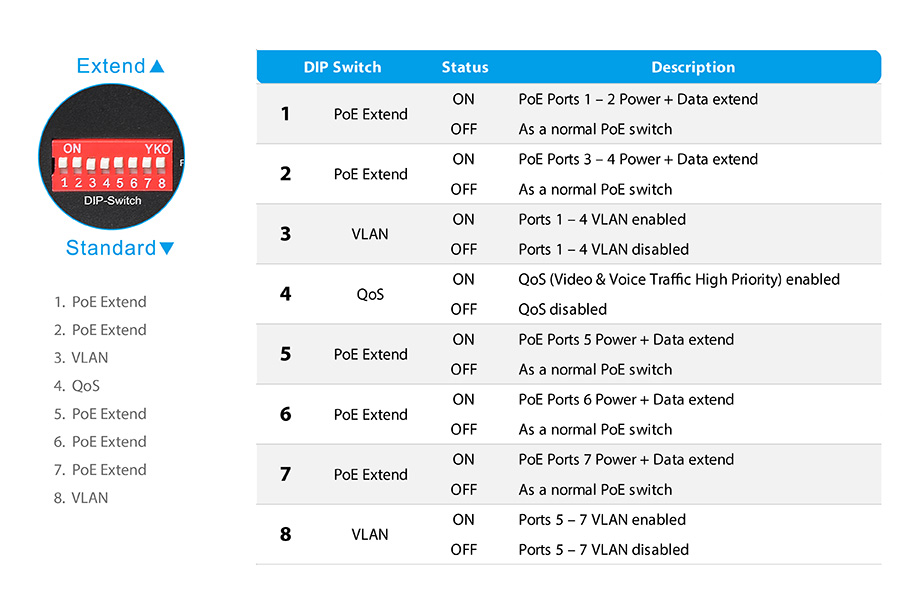 ---
Power and Data Distance Extension
The built-in DIP switch provides extended operation modes on switch 1, 2, 5, 6 & 7. The GS-1008P V2 operates as a "standard" IEEE 802.at/af PoE Switch when DIP switches are off. With switches on, the GS-1008P V2 operates on a per-port basis at 10Mbps duplex operation but can support 30-watt PoE power output over a distance of up to 200 meters, overcoming the 100m limit on Ethernet UTP cables. With this brand-new feature, the GS-1008P V2 provides an additional solution for 802.3at/af PoE distance extension and saves costs of Ethernet cable installation.

​
---
Innovative Port-based VLAN Features
The GS-1008P V2 features port-based VLAN where ports can be isolated from each other via DIP switch port 3 & 8. This can help to prevent IP camera's multicast or broadcast storms from affecting each other.


* Ports 1, 2, 3, 4 can connect to uplink ports 5, 6, 7, 8.
* Ports 5, 6, 7 can connect to uplink ports 1, 2, 3, 4, 8.
---
Hardware QoS for Video & Voice Traffic Priority
Supports 802.1p QoS via DIP switch port 4. This ensures first priority for video and voice traffic.

---
Plug & Play, No Installation Required
Just plug Ethernet or PoE enabled devices into the switch. Data and power can be transmitted through existing standard Cat-5e Ethernet cables with no additional cables or configuration required. The GS-1008P V2 reduces the difficulty, time and cost of network setup.

Flexible Network Deployment & Energy Efficient
A fast and effective solution when power outlets are unavailable for your network devices. The switch additionally supports IEEE 802.3az Energy Efficient Ethernet which allows for less power consumption and reduced costs during periods of low data activity.
Fan-less Quiet & Compact Design
A fan-less design ensures quiet operation and enables an even more compact design, keeping valuable desk space free in home or small office environments.
---
APPLICATION DIAGRAM

*Kinerja maksimal, kecepatan data yang aktual, dan jangkauan tergantung dari kondisi jaringan serta faktor lingkungan sekitar.
*Resolusi visual aktual dan kecepatan frame kamera jaringan tergantung dari kecepatan koneksi.
*Perubahan spesifikasi produk dan desain dilakukan tanpa adanya pemberitahuan.